Cost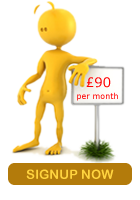 £90 per month.
Features
Send up to 10000 emails per day, whatever your location
Use any email client (Outlook, Thunderbird, PDA, iPhone) or webmail service
Instant setup
No setup fees
Detailed usage graphs
Complete log files
Report Export features
No email tagging
Order
To order outMail click here.
Additional services
Suffer from unsolicited junk email? Then profilter is the answer for you.
Need primary (master) and/or secondary (slave) domain name servers. Prolateral's domain hosting solution can give you simple peace of mind with a backup/secondary DNS service or complete control over your domain as a primary master zone.
Web hosting from Prolateral is the easy way to get your website online. Great value UK web hosting with advanced features.
Prices exclude VAT
KMT Consultancy
After numerous issues with my mobile service provider becoming spam blacklisted, and accessing my mail from many differing ISP's at clients sites. Outmail has lifted a great weight off my shoulders and I'm recommending it to ALL my clients. It took seconds to set up and I was sending mail in a matter of minutes, from laptop and mobile phone. No hassle and no irate phone calls to service providers tech departments. Ken Thomson, KMT Consultancy, Newcastle, UK