Monitor your outMail SMTP usage not just from the web based portal but also from a Mobile App. outMail Usage App supports Android and Apple iOS and is available in the app stores.
Usage
After you have installed the app you need to provide the application your logon credentials. Once logged in you can select the outMail service you wish to monitor. If you are a partner/reseller you can select either your outMail service to monitor or your clients outMail services.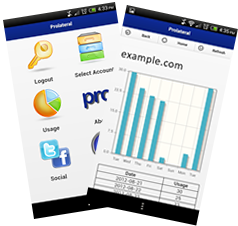 Notes
To use the outMail usage app you will need a valid and active outMail service.
outMail is a hosted SMTP SmartHost & Relay service.
outMail Usage App is a reporting tool to monitor the SMTP usage on your outMail service.
outMail Usage App is support on Android and iOS.
Download
You can find the app by searching for "outmail smtp usage" in the relevant app stores or by using the QR Codes below.