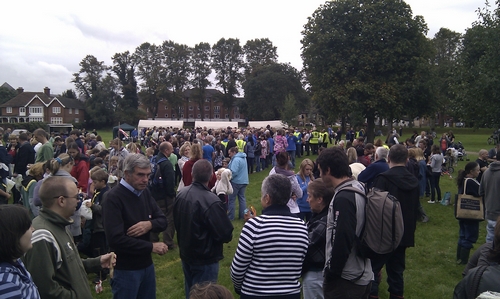 Prolateral's Technical Director, Craig Fisher, (and others) will be going into the Guiness Book of World Records after helping to raise awareness of Rotary International's 'End Polio Now' project at the Big Blub Plant organised by Rotary Clubs in Hitchin.
Rotary International has worked for 25 years raising over $800million to finance the eradication of Polio throughout the world. In 1985 Polio killed and disfigured children and adults in over 50 countries, now it remains endemic in only 4. Conservative estimates are than over 200,000 lives have been saved. The Bill and Melinda Gates Foundation has pledged another $355million to Rotary International to eradicate this crippling disease.
In order to help finance the final push, and raise the public profile of the effort, Rotary Clubs all over the UK will plant 5 million purple crocus bulbs. Hitchin decided that they would attempt to break the world record for simultaneous bulb planting - and attempt to plant 5,000 bulbs with 1,000 people; the current record stands at 400 people.
On 2nd October 2010 Hitchin Tilehouse Rotary Club succeeded in their attempt with over 700 people including Prolateral employees, their families, and other Rotarians. "The weather was kind - and kept the rain away, but welly-boots were the order of the day anyway and it was a good fun day. It certainly got tongues wagging, and will look fabulous in February when they flower." said Craig.
More information
For more information on the Rotary 'End Polio Now' project please visit http://www.rotary.org/endpolio. If you wish to make a donation to support the Polio project please visit https://riweb.rotaryintl.org/donor_xml/contributionmenu.asp (Expired Link, content not available anymore)
About Prolateral
Prolateral Consulting is in business to put your organisation back in control of your own Information Technology, specialising in information and messaging security, computer forensic services, and disaster recovery planing.
Prolateral is a Luton-based IT Security company that supports voluntary services in the local area and actively supports organisations such as Rotary International, The Pasque Charity, and the Bedfordshire Police Special Constabulary.
Contact Info
Prolateral Consulting Ltd
Luton, Bedfordshire, UK
Tel : +44 (0) 8450 763760
Email : This email address is being protected from spambots. You need JavaScript enabled to view it.
Instant Information request
Please complete the request for information if you wish to discuss matters further or if your needs are more urgent then you can request a call back from us.