Prolateral supports Movember and grows a moustache to support prostate cancer.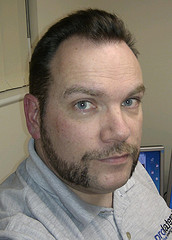 For some bizarre reason, Craig Fisher, Prolateral's Technical Director, as decided to dedicate his face to the cause of prostate cancer awareness.
Every November, men across the world are flocking to take part in 'Movember' by signing up at www.movember.com and growing a possibly ridiculous moustache to raise awareness and funds for charities helping with prostate cancer. In the UK, 36,000 men each year are diagnosed prostate cancer, and if caught early, is often treatable. On average, a man dies every hour due to prostate cancer - many of these deaths would have been preventable, if diagnosed early.
The Movember project started in Australia in 2003 - and has grown (pun intended) each year. Last year over 250,000 men raised over £26million pounds for prostate cancer research and support around the world.
Craig's reasons for signing up to Movember were that "awareness of the illness is half the battle, if people know about it, then the chances of recognising symptoms and getting treatment will save lives. Making a fool of myself makes my kids laugh, as well as raising eyebrows with colleagues & clients; and gives the opportunity to increase awareness -- and raise some money!"
So far, including cash donations, Craig has raised over £200 - and saved money on razors! Should you wish to donate - you can stil do so at http://uk.movember.com/mospace/648914/ (Expired Link, content not available anymore)
More information
For more information on prostate cancer please visit their website at https://prostatecanceruk.org/. If you wish to make a donation to support Movember please visit http://uk.movember.com/mospace/648914/ (Expired Link, content not available anymore)
About Prolateral
Prolateral Consulting is in business to put your organisation back in control of your own Information Technology, specialising in information and messaging security, computer forensic services, and disaster recovery planing.
Prolateral is a Luton-based IT Security company that supports voluntary services in the local area and actively supports organisations such as Rotary International, The Pasque Charity, and the Prostate Cancer Charity.
Contact Info
Prolateral Consulting Ltd
Luton, Bedfordshire, UK
Tel : +44 (0) 8450 763760
Email : This email address is being protected from spambots. You need JavaScript enabled to view it.
Instant Information request
Please complete the request for information if you wish to discuss matters further or if your needs are more urgent then you can request a call back from us.