A new Malware/Trojan (Scareware/Ransomware) has been identified that attempts to scare users by a series of messages that try to imitate the Microsoft's activation procedure. On a compromised system a message will appear saying the copy of Windows is locked (Windows license locked!).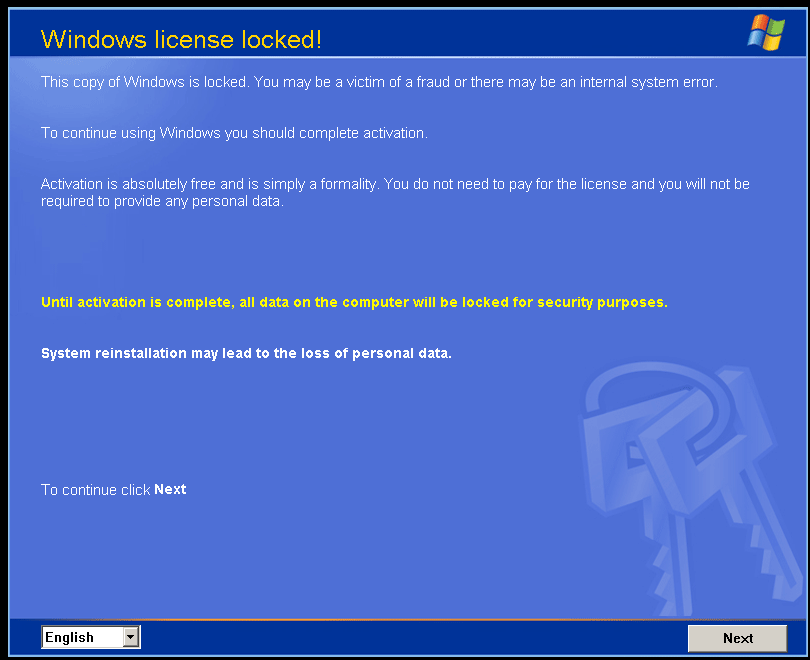 The Trojan claims that "you should complete activation" and provides several phones numbers.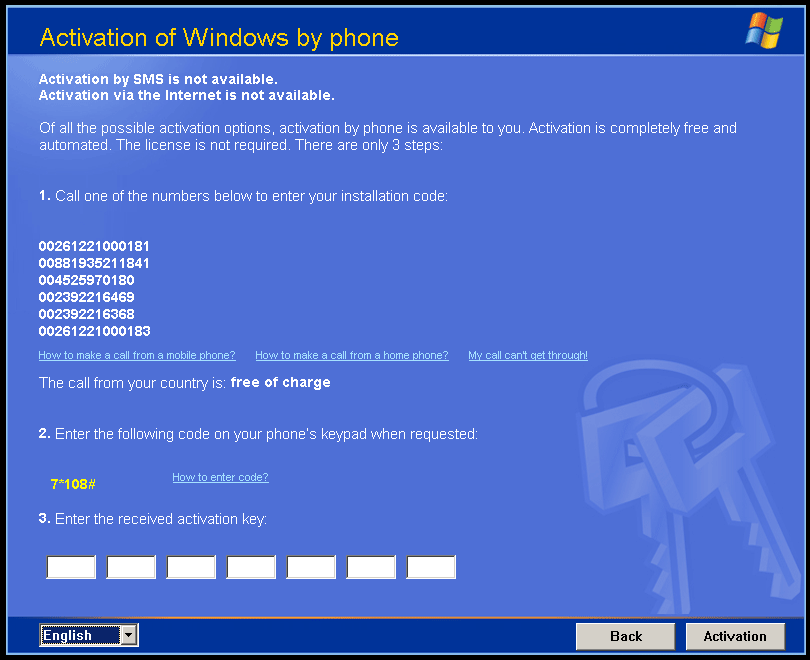 The numbers listed are:
002392216368
002392216469
004525970180
00261221000181
00261221000183
00881935211841
While these numbers may look like generic service numbers, they aren't. They go to various countries, São Tomé and Principe (239), Denmark (45), Madagascar (261) and Globalstar Mobile Satellite Service (8819). The Trojan claims the call are "free of charge" but they aren't. In fact the Trojan author will earn money from the call via a technique known as short stopping. This method involves rogue phone operators who route the expensive calls to cheaper countries.
After several minutes on the phone the caller is given this unlock code: 1351236. The unlock code appears to be the same number on every call.
Operations Director, Ian Chilvers, said "It's a pretty clever bit of social engineering and some victims may never even realise that they've even been scammed."
F-Secure have named the Trojan as Trojan.Generic.KDV.153863.
Prolateral can help you
If you think you have been affected by this problem and need help then give us a call. Prolateral Consulting is an IT Security company specialising in the protection of your computer systems. Prolateral is solution partners with Symantec and eSet to help provide you the best of breed solution that is tailored to fit your business requirement. Together with proFilter, Prolateral's first rate anti-spam and anti-phishing email filter (as known as spam email filtering) we have the complete solution.
About Prolateral
Prolateral Consulting is in business to put your organisation back in control of your own Information Technology, specialising in information and messaging security, computer forensic services, and disaster recovery planing.
Contact Info
Prolateral Consulting Ltd
Luton, Bedfordshire, UK
Tel : +44 (0) 8450 763760
Email : This email address is being protected from spambots. You need JavaScript enabled to view it.
Instant Information request
Please complete the request for information if you wish to discuss matters further or if your needs are more urgent then you can request a call back from us.