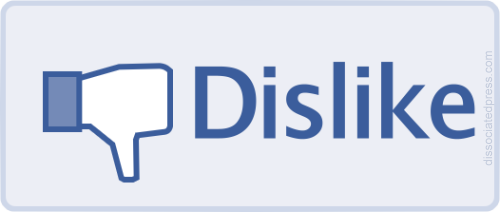 Not so long ago spammers played on people's curious natures by sending messages that claimed one can find out who viewed their profile after following certain steps; one of which asked them to invite friends to do the same.
The result was instead of getting the information they wanted, they inadvertently "spammed" their other friends as well.
The latest scam hitting Facebook is the adding a "Dislike" button to user's pages. The Facebook user receives an alert on their wall claiming, "Facebook now has a dislike button! Click 'Enable Dislike Button' to turn on the new feature!"
Once a user clicks on it, the message will appear on their friends' walls, thereby opening the door for more people to be scammed and no "Dislike" button will appear on your wall either.
Facebook users have been campaigning for the site to have a "Dislike" button so this scam is likely to fool a lot of people.
Operations Director Ian Chilvers said, "If you receive this message, you can either hide it or better still mark it as spam. Marking it as spam will help Facebook improve its security in the future".
Prolateral can help you
If you think you have been affected by this problem and need help then give us a call. Prolateral Consulting is an IT Security company specialising in the protection of your computer systems. Prolateral is solution partners with Symantec and eSet to help provide you the best of breed solution that is tailored to fit your business requirement. Together with proFilter, Prolateral's first rate anti-spam and anti-phishing email filter (as known as spam email filtering) we have the complete solution.
About Prolateral
Prolateral Consulting is in business to put your organisation back in control of your own Information Technology, specialising in information and messaging security, computer forensic services, and disaster recovery planing.
Contact Info
Prolateral Consulting Ltd
Luton, Bedfordshire, UK
Tel : +44 (0) 8450 763760
Email : This email address is being protected from spambots. You need JavaScript enabled to view it.
Instant Information request
Please complete the request for information if you wish to discuss matters further or if your needs are more urgent then you can request a call back from us.