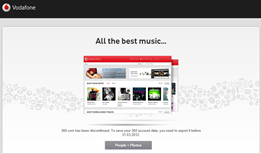 Are you a Vodafone 360 customer looking for a alternative SMTP relay as Vodafone 360 ends its life?
Vodafone launched a service called 360 in September 2009 which was designed to bring all the services together in one place, from music to apps and even email services. As a Vodafone subscriber you had the ability to send emails outbound using their SMTP server (smtp.360.com).
With the closure of 360 the SMTP service is no longer available. However there is a solution. outMail by Prolateral is a hosted and secure SMTP mail relay service and can be used as a alternative to the 360 service. There are a variety of packages available starting from outMail10 (FREE) upwards.
outMail supports alternative SMTP ports as well for when you're having troubles with the standard port 25 or 587.
About Prolateral
Prolateral Consulting is in business to put your organisation back in control of your own Information Technology, specialising in information and messaging security, computer forensic services, and disaster recovery planing.
Contact Info
Prolateral Consulting Ltd
Luton, Bedfordshire, UK
Tel : +44 (0) 8450 763760
Email : This email address is being protected from spambots. You need JavaScript enabled to view it.
Instant Information request
Please complete the request for information if you wish to discuss matters further or if your needs are more urgent then you can request a call back from us.