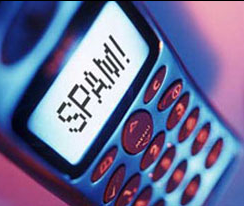 Prolateral is in the business of email spam filtering (also known as SMTP Spam Filtering) but from time to time we are often asked about those annoying spam text messages.
What is a spam TXT?
Spam is an unwanted marketing message that can take the form of a text message that is sent to many people who have not requested to receive messages. Some people receive spam text messages and most find them annoying. Spam messages affect all mobile operators and some spam messages encourage you to call an expensive premium rate number (090 numbers), often with the pretext of claiming a prize.
Other examples of SPAM TEXTS include offers to help you reclaim PPI, write-off your debts, or make a personal injury claim following an accident (which you may or may not have been involved in).
Never reply to a spam text
These are messages you have never asked for and typically don't want. These texts WANT you to respond. In fact any response just to confirm you are a real person and not an unused mobile number. Some even try to trick you by saying "Text stop to be removed from the mailing list".
Do not reply at all. Don't even text STOP. Just ignore them because it can be difficult to split the legitimate from the malicious texts.
Any numbers that are confirmed are likely to be sold on to third parties like injury claim specialists, PPI reclaiming firms or other unscrupulous people or companies.
Five steps to minimise spam texts
Unfortunately there is no official opt-out system for these spam messages, as they are sending to tens of thousands of numbers at a time. They are often sent by companies operating from abroad and thereby outside of British law, or from pay-as-you-go SIMs (also evading the law), so nothing is assured to work.
However, the follow the below steps to help reduce the number of spam texts you get.
Step 1 - Never reply
Never reply to any sort of spam message. It just confirms your number is active.
Step 2 – Be careful who you give your number to.
Be careful who you give your number to when filling in forms especially for marketing companies and always opt out from that company being allowed to pass on your details to third parties. Read the small print carefully because some forms you have to tick a box to opt out and others you have to remove a tick.
Step 3 – Don't list your mobile number online
Don not list your number online anyway, this includes Facebook, Twitter and social media, forums or blogging sites. Even pages you think are private could be shared by your friends and therefore make your number visible.
Step 4 – Check the privacy statement
Always read the privacy statement and the opt-out information on any online site you use.
Step 5 – Complain to the ICO
All complaints to the Information Commissioners Office (ICO) will be investigated. More information can be found at https://ico.org.uk/make-a-complaint/nuisance-calls-and-messages/spam-texts-and-nuisance-calls/
Can my mobile operator do anything?
Yes.. As well as reporting the SPAM TEXTs to the ICO you can always report the incident to your mobile phone network provider (E.g. Orange, Vodafone, O2, Three, T-Mobile, etc).
To report the message you simple need to forward the message including the number the message came from to the number 7726. If you look at your keypad on the phone you will see the number 7726 spells SPAM.

Mobile Operator Network Information
Below is a list of uk network providers and their pages on SMS Spam.
About Prolateral
Prolateral Consulting is in business to put your organisation back in control of your own Information Technology, specialising in information and messaging security, computer forensic services, and disaster recovery planing.
You can follow @prolateral on twitter and also find us on Facebook.
Contact Info
Prolateral Consulting Ltd
Luton, Bedfordshire, UK
Tel : +44 (0) 8450 763760
Email : This email address is being protected from spambots. You need JavaScript enabled to view it.
Instant Information request
Please complete the request for information if you wish to discuss matters further or if your needs are more urgent then you can request a call back from us.