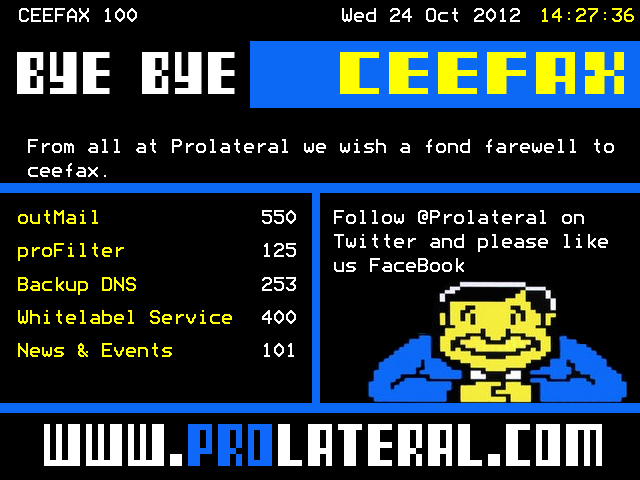 CEEFAX was labelled a programme without a presenter and watched mainly by night workers, early risers and insomniacs. But now as the UK analogue television turn-off nears completion and Northern Ireland is going all-digital this week (24 Oct 2012). The pages from Ceefax have been broadcast for the last time.
In the early 70's the BBC started researching ideas on ways to send closed captioning information to the audience. The main idea was to provide subtitles during a program that most will remember being on the famous page 888. Not to be confused with a poker site these days. As the teledata research continued the BBC became more interested in delivering additional kinds of information.
Together this formed the service called Ceefax which first appeared on teletext receiving televisions in 1974 and short after the rival channels launched their own services.
Over the last few years we have seen a migration from analogue television to digital television. This week sees the last of the analogue areas being switched off and moved to digital. So on Wednesday 24th October 2012 we will bid a fond farewell to ceefax as it is turned off.
Our Tribute to Ceefax
As a tribute to Ceefax we decided to have some fun and create a couple of teletext pages of our own.
Additional Information
More information on ceefax can be found at http://en.wikipedia.org/wiki/Teletext
About Prolateral
Prolateral Consulting is in business to put your organisation back in control of your own Information Technology, specialising in information and messaging security, computer forensic services, and disaster recovery planing.
You can follow @prolateral on twitter and also find us on Facebook.
Contact Info
Prolateral Consulting Ltd
Luton, Bedfordshire, UK
Tel : +44 (0) 8450 763760
Email : This email address is being protected from spambots. You need JavaScript enabled to view it.
Instant Information request
Please complete the request for information if you wish to discuss matters further or if your needs are more urgent then you can request a call back from us.