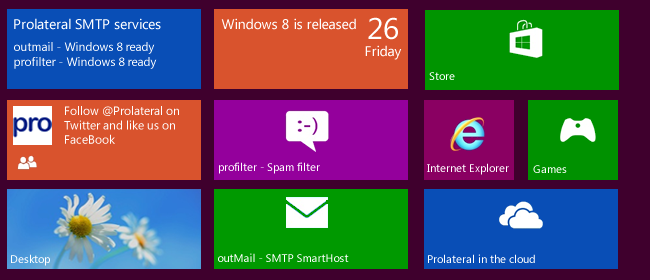 After years of anticipation and over a year of beta-testing. Microsoft has finally released its latest operating system, Windows 8. In addition, today Microsoft released the MS Surface which is competing in the iPad and tablet market space.
The MS Surface RT (released today 26-10-2012) is running on the ARM CPU, however those more thirsty to run MS Surface as a potential replacement to the Desktop PC will have to wait for MS Surface Pro due out in Q1 2013. MS Surface Pro will be running with an Intel CPU and will be a little thicker in dimensions compared to the Surface RT.
Having a device as portable as the surface, users may run into problems sending email. Most likely caused when you are roaming on different wireless networks and your ISP prevents you from sending emails. This is more commonly encountered as an error: SMTP Error 550 – Relay Denied.

Never fear, Prolateral offers a solution called outMail which is a hosted SMTP Mail Relay and SMTP Smarthost. Sounds very techy but it isn't. To use outMail all you need to do is change your outbound SMTP server settings to use outMail and bingo, you're sending emails again from anywhere on any network.
There are a variety of packages available starting from outMail10 (FREE) upwards. outMail supports alternative SMTP ports as well for when you're having troubles with the standard port 25 or 587.
For more information on outMail please see www.prolateral.com/outmail. Also as a related link and some interesting bedtime reading then an article on understanding the SMTP errors codes can be found (What is SMTP and understanding the error codes).
About Prolateral
Prolateral Consulting is in business to put your organisation back in control of your own Information Technology, specialising in information and messaging security, computer forensic services, and disaster recovery planing.
Contact Info
Prolateral Consulting Ltd
Luton, Bedfordshire, UK
Tel : +44 (0) 8450 763760
Email : This email address is being protected from spambots. You need JavaScript enabled to view it.
Instant Information request
Please complete the request for information if you wish to discuss matters further or if your needs are more urgent then you can request a call back from us.