A week today since the launch of Windows 8 and cyber criminals are grabbing the opportunity to distribute threats and causing alarm with users to the new OS.
The Malware is in the style of XP AntiVirus and is another FakeAV Trojan. The following dialog may show up when users visit malicious sites.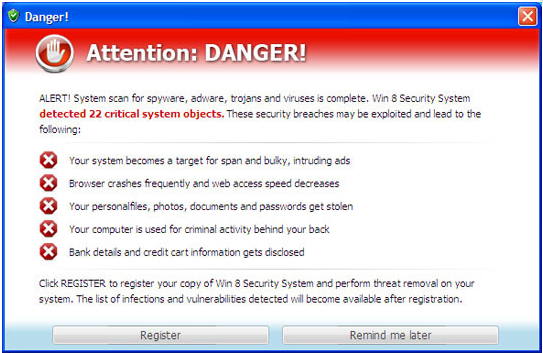 As shown above the malware displays a "fake" scanning result designed to trick you into thinking you have an infected Windows 8 installation and then encourages users to register and purchase the "fake" antivirus program. This is exactly the same as the "XP AntiVirus" and all the other variants we have seen before however this one is designed to target Windows 8.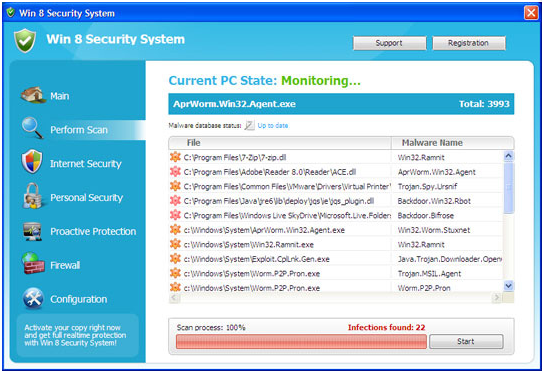 Prolateral can help you
If you think you have been affected by this problem and need help then give us a call. Prolateral Consulting is an IT Security company specialising in the protection of your computer systems. Prolateral is solution partners with Symantec and eSet to help provide you the best of breed solution that is tailored to fit your business requirement. Together with proFilter, Prolateral's first rate anti-spam and anti-phishing email filter (as known as spam email filtering) we have the complete solution.
About Prolateral
Prolateral Consulting is in business to put your organisation back in control of your own Information Technology, specialising in information and messaging security, computer forensic services, and disaster recovery planing.
Contact Info
Prolateral Consulting Ltd
Luton, Bedfordshire, UK
Tel : +44 (0) 8450 763760
Email : This email address is being protected from spambots. You need JavaScript enabled to view it.
Instant Information request
Please complete the request for information if you wish to discuss matters further or if your needs are more urgent then you can request a call back from us.