Mobile phones with built-in mini projectors will launch later this year, according to 3M, which gave PC Pro a hands-on demonstration of the technology at CES 2008.
3M's LED illuminated projector is currently a prototype handheld device that displays photos or films stored on the unit's SD or Mini-SD card.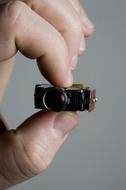 The projector has a brightness of around 8-10 lumens, and is capable of displaying an image of up to 50in, although 3M's spokesperson Greg Roberts told us that, with perfect lighting conditions, it's possible to squeeze a 60in screen out of the projector.
The projector's VGA resolution image is certainly impressive. Text from PowerPoint presentations is rendered sharply, photos are reproduced with lifelike skin tones and colours, and little detail is sacrificed. Bright images did look slightly washed out, but the garish lights of the CES show floor made it hard to block out ambient light in 3M's tiny booth, so we're prepared to give it the benefit of the doubt.
Roberts's claims the projector can run for two hours continuously using a standard mobile phone battery, although you're hardly likely to watch a film on such a device. Instead, 3M envisages it will be used for impromptu business presentations, or for quickly sharing photos or short videos with others.
Roberts says 3M is in talks with "several leading phone and camera manufacturers" although wouldn't reveal names, but claims products could arrive on the market before the end of the year.