Cost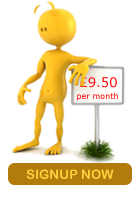 £9.50 per month.
Features
Send up to 1000 emails per day, whatever your location
Use any email client (Outlook, Thunderbird, PDA, iPhone) or webmail service
Instant setup
No setup fees
Detailed usage graphs
Complete log files
Report Export features
No email tagging
Order
To order outMail click here.
Additional services
Are you buried in unsolicited junk email? Then profilter is the answer for you. No more SPAM!
Do you need primary (master) and/or secondary (slave) domain name (DNS) servers ? Prolateral's domain hosting solution can give you simple peace of mind with a backup/secondary DNS service or complete control over your domain as a primary master zone.
Web hosting from Prolateral is the easy way to get your website online. Great value UK web hosting with advanced features.
Prices exclude VAT
Solar Solve Limited
I'm very, very impressed with Prolateral's outgoing mail service!! I had spent hours checking every setting I could think of to get my server to work with my ISPs mail relay, and no joy. I then changed my SmartHost details in Exchange Server 2007 using the wizard from my ISP details to the details that you sent me for outMail and voila!! All our outbound emails were sent immediately. Brilliant. David Lightfoot, South Shields, Tyne & Wear, UK