Problem
How to setup a SMTP relay for Kerio Connect?
How to setup Kerio Connect to use outMail as a Mail Relay?
Solution
Follow the guide below to configure Kerio Connect use outMail as the SMTP Relay.
This article already assumes your Kerio Connect system is already setup and working. If not then you should consult the manual which can be found at http://www.kerio.com/connect/manual.
Login to the administration interface for Kerio
In the left menu's select Configuration and then SMTP Server
In the main pane select the SMTP Delivey tab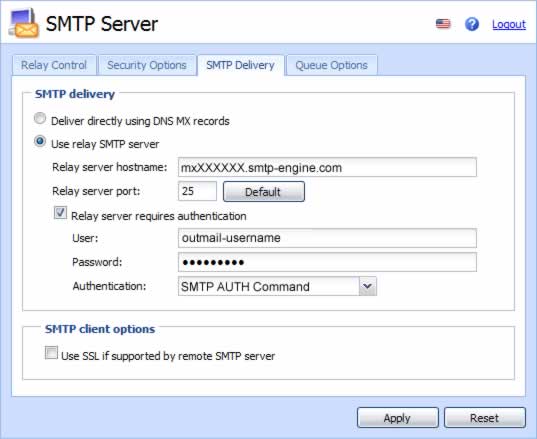 Select the option "Use Relay SMTP Server"
Enter mxXXXXXX.smtp-engine.com in the "Relay server hostname" field.
Change the "Relay server port" if necessary. See below for alternative TCP SMTP Ports.
Enable the option "Relay server requires authentication"
Enter the outMail username and password provided to you.
Change the "Authentication" to "SMTP Auth Command"
Uncheck the option "Use SSL if supported by remote SMTP Server"
Click on the Apply button.
Summary of server details
Outgoing server

mxXXXXXX.smtp-engine.com

As provided in your signup email.

Outgoing server protocol

SMTP

Outgoing server port

25, 465, 587, 2525 or 8025

Authentication Type

Basic Authentication, SSL and TLS supported

Username

As provided

Password

As provided