Problem
How do I set up outbound SMTP on e-Campaign bulk emailer?
How do I set up outMail on e-Campaign bulk emailer?
Solution
Follow the guide below to configure the e-Campaign bulk emailer windows application to send emails using the outMail service.
It is assumed you have already downloaded e-Campaign and installed the application. Your windows PC will also need access to the Internet in order to send emails.
Run the application and select the Tools menu followed by the menu option "Eamil Accounts".
The Email Account Manager window will appear. From here you can either add a New account or Modify an existing account.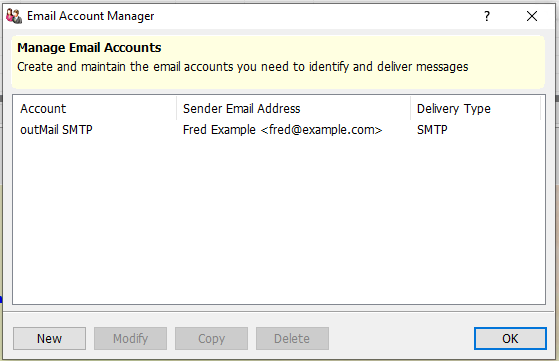 The Account Properties window will appear.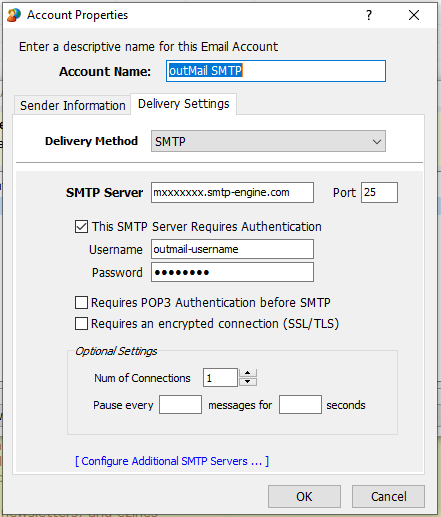 Ensure you have a valid name in the Account Name field. In this example we will simply put outMail SMTP.
Complete the form under the Sender Information tab and then select the Delivery Settings tab.
In the
SMTP Server
field change the SMTP server to
mxXXXXXX.smtp-engine.com
(Your assigned outMail server will be in your welcome email and also the
management portal
)
Check the box This SMTP Server Requires Authentication
Enter the
username
and
password
you were provided for outMail and click OK.
Please refer to your welcome information on encryption levels and available SMTP ports.
Please see the outmail KB article on rate limits for fine tuning the Optional Settings
Click OK to finish.
Summary of server details
Outgoing server

mxXXXXXX.smtp-engine.com

As provided in your signup email.

Outgoing server protocol

SMTP

Outgoing server port

25, 465, 587, 2525 or 8025

Authentication Type

Basic Authentication, SSL and TLS supported

Username

As provided

Password

As provided
Uninstalling / Removing outMail
To change your outgoing SMTP server settings away from outMail simply follow the setup guide above and where asked to enter the outgoing SMTP mail server address and login credentials please use those provided to you for the service provider you are moving to.