Problem:
How to setup Microsoft Office 365 in the Exchange Admin Center to support profilter for email delivery.
Prerequisite:
It is assumed you have already setup your profilter package and then you have configured profilter to deliver good emails (ham, i.e. not spam) to server address given to you by Microsoft.
It will look something like the below:
example-com.mail.protection.outlook.com
Solution:
This article has been deprecated


Note :- This article has been deprecated and replaced with a new article - Configuring Office365 to allow Profilter to work with Exchange Online Protection (EOP)


Configuring Office 365 to only allow email from Profilter (optional).
1. Login to your Office 365 account by going here:

https://outlook.office365.com/ecp

2. Go to Mail flow > Rules.

3. Click on the + sign to add a new rule, and then click more options.

4. Name the rule: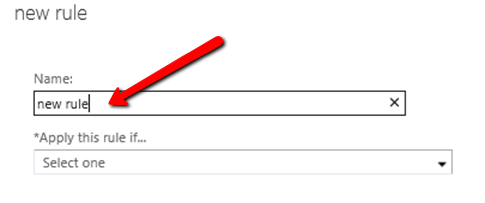 5. Choose the "The sender is located..." and "is external/internal" options: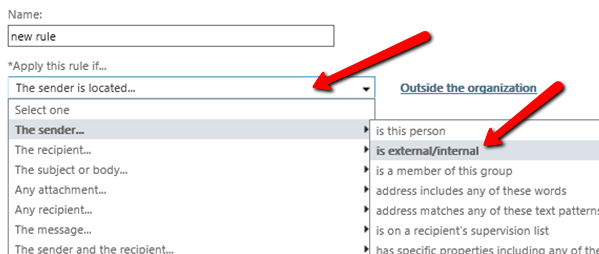 6. Make the rule apply to senders that are "Outside the organization":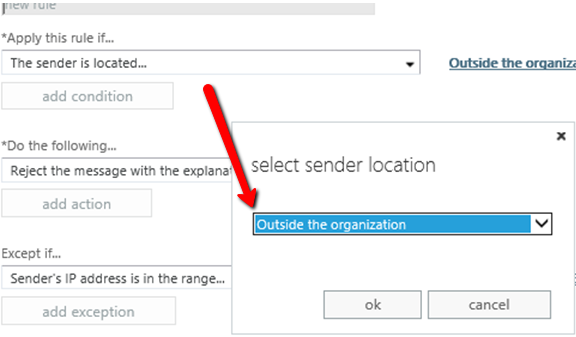 7. Create an exception to this rule for all Profilter IPs, so that filtered email still gets through.
Where it says "Except if..." select the "Sender's IP is in the range..." option and add each Profilter IP: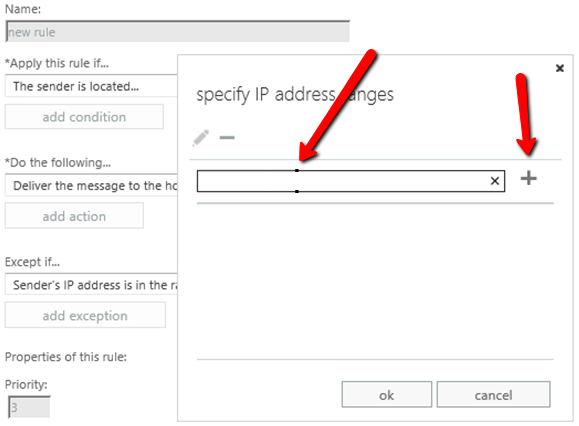 All Profilter cluster IPs need to be added. To enter multiple IPs, click on the + button.
See: The full list of Profilter IP addresses
8. Where it says "Do the following...", select the "Redirect the message to..." and "hosted quarantine" options:


| | |
| --- | --- |
| | Warning: Newer versions of Office365 may not have this exact option. You may need to choose "deliver the messages to the hosted quarantine" if available. |