Last Friday saw the MS Surface released by Microsoft. Running Windows 8 RT it's being marketed in the same marketplace as the Apple iPad. So we at Prolateral thought we would look at them both and, as today is Halloween, compare apples with apples - well you know what we mean.
The surface is Microsoft's first tablet device and if you look at Apple's iPad and Google's Android tablets it's years late to the market. However could this be another BetaMax versus VHS, DVD versus Blueray battle. After all, the Xbox was released later than the PlayStation but it still shook up and spooked the games market.
So let's see if the MS Surface has given Apple Corp some ghostly shivers to worry about...
Dimensions
Both the iPad and the Surface have the same thickness at just over 9mm, but the Surface is slightly heavier. This is most likely because the Surface comes with its own kickstand to prop the device up whereas you need to purchase an accessory for the iPad to do that.
The screen dimensions of both devices also differ. The Surface has a 10.6 inch display boasting a 16:9 aspect ratio for watching movies in widescreen. The iPad has a smaller 4:3 ratio screen at 9.7 inches but has a greater display resolution quality (2,048 x 1,536 pixels) than the Surface (1,366 x 768 pixels).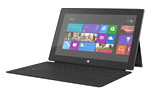 Operating system and processor
The latest iPad is running iOS 6 and the Surface runs on Windows RT. Windows RT is a light version of Windows 8 and set to run on an Arm processor. Included in the Surface is Microsoft's latest Internet Explorer 10 with and MS Office Home & Student Edition. Of course if you're looking for a tablet that will run full Windows 8 then early next year (Q1 2013) Microsoft plans to release the MS Surface Pro.
In terms of processing speeds the iPad 4 runs on a dual-core A6X chip with quad-core graphics. The Surface on the other hand runs on quad-core processor with an Nvidia graphics chipset.
Battery life
The surface is able to run for up to 8 hours of intensive use compared to the latest iPad which is able to run for ten hours. The latest iPad also has twice the stand-by time as the MS Surface at 720 hours (30 days).
Storage
The Apple iPad comes in 16GB, 32GB or 64GB variations. The Surface comes in either 32GB or 64GB, with the option to expand memory up to 64GB through a micro SD slot at the back of the device.
Connectivity
The iPad 4 uses the same lightning dock 8-pin connector that is now available on the iPhone 5 which replaced the original 30-pin connector. This sadly means all the accessories you had for your iPad 3 or earlier will no longer fit the new iPad 4. Bad for the user but good for the cash registers of Apple as you go out and purchase replacement accessories this Xmas.
The MS Surface offers a micro HDMI connector multimedia. Both devices are WiFi enabled and ship with Bluetooth however the MS Surface doesn't offer any cellular (mobile) access. The iPad on the other hand has an optional extra to provide 3G, and now 4G, on contract with most network carriers and operators.
Camera
Both gadgets have front and rear facing cameras. The Surface has two 720p HD cameras and two speakers for stereo sound quality. The iPad also has a 720p camera for video calling at the front, but boasts a full 1080p camera at the back for better photos and videos. However the iPad 4 only has one speaker.
Apps
It stands to reason the currently the Apple App Store will have vastly more apps available as it's been several years since it was released. In fact the App Store has over 275,000 apps. That said, Microsoft are looking to have 100,000 apps available soon after the launch.
Accessories
The Surface has a USB port built-in, meaning it is compatible with other gadgets like game controllers, printers, mice and any other peripherals you may want to attach to it.
The latest iPad still doesn't offer USB unless you buy a USB adaptor as an accessory.
Of course on of the big talking points of the MS Surface is the fact the cover is also a detachable keyboard. The tablet comes with a choice of a Touch Cover or Type Cover keyboards. The Touch Cover is super thin at just 3mm and is a flat keyboard so typing may take some getting used to. The Type Cover is more like a very thin keyboard with depressible keys which might make more sense if you want to use it for longer periods of time for work.
The iPad has a similar keyboard accessory.
Price
The cheapest Surface is £399 (RRP) for a 32GB model. If you want the Touch Cover keyboard with the 32GB it will cost £479 (RRP), while the bigger 64GB version with Touch Cover retails for £559 (RRP). Buying the Touch Cover separately costs £99.99 (RRP) and the Type Cover £109.99 (RRP).
The iPad is comparatively more expensive. The 16GB model retails for £399, 32GB for £479 and 64GB for £599. Models which run on Wi-Fi and 3G cost significantly more.
Comparision
So let's look at the specs side by side.
| | iPad | Surface |
| --- | --- | --- |
| Height | 241.2mm | 274mm |
| Width | 185.7mm | 171mm |
| Thickness | 9.4mm | 9.4mm |
| Weight | 652g | 680g |
| | | |
| Display | 9.7 inch | 10.6 inch |
| Ratio | 4:3 | 16:9 |
| Resolution | 2048 x 1536 | 1366 x 768 |
| DPI | 264 | 148 |
| HDMI output | No | Yes |
| Multi-touch | 3 point | 5 point |
| | | |
| OS | iOS6 | Windows 8 RT |
| CPU | A6X | Nvidia Tegra 3 |
| CPU Core Type | Dual Core (Quad Graphics CPU) | Quad Core |
| | | |
| Wifi | Yes | Yes |
| Bluetooth | Yes | Yes |
| Cellular | Optional | No |
| | | |
| Front Camera | 720p HD | 720p HD |
| | | |
| Rear Camera | 1080p | 720p HD |
| | | |
| Speakers | Single Speaker | Stereo Speakers |
| | | |
| Sensors | | |
| Three Axis Gyro | Yes | Yes |
| Accelerometer | Yes | Yes |
| Ambient Light Sensor | Yes | Yes |
| Compass | Yes | Yes |
| GPS | Yes | Yes |
| | | |
| Battery Life | 10hrs | 8hrs |
| | | |
| Storage | | |
| 16GB | Yes | - |
| 32GB | Yes | Yes |
| 64GB | Yes | Yes |
| 128GB | - | - |
| | | |
| Expansion Storage | No | Yes |
| | | |
| Price RRP | | |
| 16GB | £399 | - |
| 32GB | £479 | £399 |
| 64GB | £599 | £559 |
| 128GB | - | - |
Summing it all up
We think the Surface sounds great. It closely matches the iPad 4 in specification and will defiantly give Apple the competition it deserves. Of course battery life is a little disappointing as it not having a 3G/4G option but I suspect it will not be long before those options are made available.
The iPad 4 will probably win over those wanting a superior entertainment tablet with longer battery life and better display. But the Surface looks great for work and play. The Surface offers a more affordable price tag which, after just coming out of a recession and this close to Christmas, might just make this piece of kit more appealing.
Now let's not forget that this market-space also sees Google Android-based tablet devices. With the Google Nexus 10 ready to ship on the 13th November the competition for top-dog tablet is still wide open and these next few months will be 'game on' for the respective marketing departments.
So what do you think?
Will you be buying a Microsoft Surface tablet, or will you be camping out at the nearest Apple Store for the iPad 4, or maybe you're an Android fan and you're simply counting down the days to get your hands on the new Nexus?
About Prolateral
Prolateral Consulting is in business to put your organisation back in control of your own Information Technology, specialising in information and messaging security, computer forensic services, and disaster recovery planing.
Contact Info
Prolateral Consulting Ltd
Luton, Bedfordshire, UK
Tel : +44 (0) 8450 763760
Email : This email address is being protected from spambots. You need JavaScript enabled to view it.
Instant Information request
Please complete the request for information if you wish to discuss matters further or if your needs are more urgent then you can request a call back from us.